In 2017,
 Westword
debuted Eat Here, our now-annual roster of the 100 Denver restaurants that we can't live without. This year's list, revealed on December 7, has 36 names that weren't on the 2020 lineup, along with many standbys that have been among our favorites year after year.
Some restaurants that didn't make the cut this time are still serving. But over the past four years, we've also said goodbye to a lot of our favorite restaurants — and many of those have closed since the pandemic. Of the 100 restaurants we highlighted in 2017, eighteen are now gone, either permanently or temporarily.
Here's a look back at those that have closed since we published that original list, updates on where the people behind them are now, and some tips on what's filled the gaps they left behind:
[email protected]
When chef Jeff Osaka rebooted his restaurant Twelve in Congress Park in 2017, we lauded it as the best new restaurant in the city. But the pandemic took its toll on the intimate, eclectic eatery; it closed for good in May 2020. Osaka has kept busy, though, with his conveyor-belt sushi chain Sushi Rama, Osaka Ramen in RiNo and Empire Lounge and Restaurant in Louisville. The space at 1160 Madison Street is now serving sushi as Ronin Congress Park.
Acorn
Acorn was the Denver-based followup to Boulder's Oak at Fourteenth; it opened at the Source in 2013. In September 2020, the team announced that Acorn would close and be replaced by a new concept: Mexican eatery Bellota, which opened a year later, just in time to make this year's Eat Here list — largely on the strength of its buttery shrimp tacos and other crave-worthy dishes.
Beast + Bottle
This small Uptown eatery from brother-and-sister duo Paul and Aileen Reilly had consistently been one of Denver's best eateries since opening in 2013. After its building was sold and the new owners declined to extend its lease, though, the restaurant served its last meal in April. But the Reillys, who also own Italian eatery Coperta, are continuing Beast + Bottle's mission of responsible sourcing at their new concept, Apple Blossom, which debuted inside in the Hyatt Centric Downtown Denver hotel in October.
Beatrice & Woodsley
When the pandemic hit, this South Broadway staple — open since 2008, and decorated like a woodland dream — offered food and drinks to go through much of 2020; it began offering delivery under the name Unofficial Translation in early 2021. But that service has now ceased, and the restaurant itself has yet to reopen. For a taste of the team's creativity, stop by Beatrice & Woodsley's sister restaurant, the tropical-themed Bang Up to the Elephant.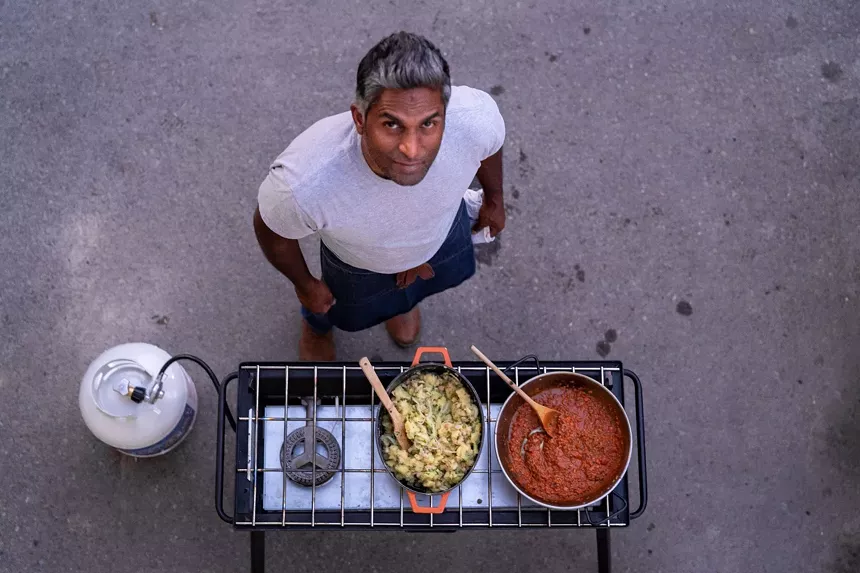 Biju's Little Curry Shop
In 2014, Biju Thomas launched Biju's Little Curry Shop in RiNo, driven by the desire to share the benefits of fresh, healthy food by offering the kinds of dishes he'd grown up eating in India in a fast-casual environment. At one point the brand had expanded to three locations, but by 2020, Thomas made the decision to concentrate on just the Tennyson Street outpost. COVID put a halt to those plans, though, and Thomas was forced to close the remaining Little Curry Shop. He's since taken a new position with Outside media company as senior content producer for nutrition and cooking, which offers the chef and longtime cyclist the opportunity to share his passion for healthy eating with a wide audience.
Casa Bonita
The saga of Casa Bonita, which has been closed since indoor dining was initially shut down in March 2020, has been full of twists and turns. But now we know that South Park creators Trey Parker and Matt Stone are the new owners of the iconic landmark, and are planning to reopen in summer 2022 with lots of changes in store. In a television-worthy twist, Work & Class and Super Mega Bien chef and owner Dana Rodriguez — who was once told she wasn't qualified for a position in the kitchen at the pink eatertainment palace — was recently named its new executive chef. Will sopaipillas still be on the menu? Rodriguez says yes, and we're expecting other much-improved but still family-friendly fare, too. 
El Chingon
In 2012, the original El Chingon left its home in an Arvada strip mall and finally reopened eighteen months later in a small space on Tennyson Street. Today that restaurant is closed, and El Chingon is planning a move to someplace larger, says owner Lorenzo Nunez Jr. No clues on where or when, but we'll be watching.
Euclid Hall
Euclid Hall was the third restaurant from Jennifer Jasinski and Beth Gruitch, co-owners of the award-winning Crafted Concepts, which also includes Rioja and Bistro Vendôme on Larimer Square, and Stoic & Genuine and Ultreia in Union Station. The owners had already been looking for another home for the concept — its lease was up in August 2020 — when the pandemic hastened Euclid Hall's demise. Its last service was March 16, 2020, the day before restaurants across the state were ordered closed to indoor dining. At the time, there was talk of Euclid Hall returning one day in a new location. While there's been no news on that front, Jasinski and Gruitch's other concepts continue to go strong. Jasinski is also the consulting chef at the Ponti, the new restaurant at the recently opened Sie Welcome Center at the Denver Art Museum. The Euclid Hall space is now home to Bao Brewhouse.

King's Land
Once one of the best places to get dim sum in the city, King's Land shut down on New Year's Eve 2018; today, our dim sum go-to is Star Kitchen. One member of the family that ran King's Land is back in the restaurant business, though: After helping run the family business for eighteen years, in early 2021 Tom Vu opened his own shop, Banh Mi Station, by the University of Denver neighborhood, where it serves the only fried chicken banh mi in town.
Lola Coastal Mexican
When it opened on South Pearl Street in 2002, Lola brought a breath of fresh air — and incredible coin margaritas — to the dining scene. In 2006, Dave Query's Big Red F restaurant group moved Lola to the old Olinger Mortuary complex in LoHi, kickstarting the transformation of that area into a hot restaurant destination. But the pandemic forced Big Red F to re-evaluate, and on September 12, after serving one last brunch, Lola closed its doors for good. When the space at 1575 Boulder Street reopens in 2022, it will be filled by an outpost of Post Chicken & Beer, a successful concept that Query first introduced in Lafayette in 2014 and has since grown to six locations…and counting.
The Market
First opened in 1978 as a small grocery store by Larimer Square developer Dana Crawford, the Market became a go-to spot that many Denver residents knew and loved after Mark Greenberg and his brother, Gary, took over in 1983. The brothers always claimed that the Market had the first espresso bar between New York and Los Angeles, definitely making it the first in Denver — long before Starbucks popped up here. But the Market was much more than that: It was also a bakery, deli and neighborhood gathering spot. The Market closed for good in April 2020 after 42 years, and while two temporary businesses — the Farmers Market LSQ and Larimer Records Cafe — were briefly open in the space in the interim, it's currently vacant.
Masterpiece Deli
In December 2019, Justin Brunson decided to close down the original LoHi location of his popular deli and move its operations inside his nearby Old Major (more on that restaurant below). The space at 1575 Central Street remains vacant, though the building at that address was sold in October.

Mister Tuna
Restaurateur Troy Guard opened Mister Tuna in July 2016 in the Industry Building in RiNo, but ongoing construction on Brighton Boulevard made business difficult, and he made the call to shut it down in November 2019. Guard's kept plenty busy since then — even through the pandemic. In the past year, he's closed several more concepts: Big Wave Taco at the Junction Food & Drink food hall; longtime Congress Park staple TAG Burger Bar; and his first restaurant, TAG, on Larimer Square. But he's also opened new locations of Los Chingones and Bubu, and debuted Tiny Giant Sushi at Milepost Zero, the food hall at McGregor Square near Coors Field. In September, he introduced his biggest project to date when Grange Hall opened in Greenwood Village. The food hall includes four Guard concepts (Bubu, Rado Burgers, Crazy Love Pizza and Little Dry Creek Brewing — his first foray into beer), along with five stalls operated by other vendors. 
Old Major
Denver lost one of its best restaurants when chef Justin Brunson announced in June 2020 that he would not be reopening Old Major, which had been dark since the March restaurant shut down. The closing also marked the end of Masterpiece Delicatessen, but Brunson stepped away to concentrate on his growing River Bear American Meats company — which is still going strong — and the space at 3316 Tejon Street wasn't dark for long. Brunson sold it to Amos Watts, who had previously been the head chef at Old Major. Watts turned the location into the Fifth String, which opened in August 2020 and landed a spot on this year's Eat Here list.
The Populist
Remember back when RiNo wasn't a hot spot for bars and restaurants? Then in 2012, Jonathan Power and Noah Price opened the Populist at 3163 Larimer Street, following the success of Price's Crema Coffee House three blocks away. The Populist was a precursor to what was coming to the area, serving some of the best food in the city during its seven-year run, but it closed in August 2019. The building was sold to restaurateur Juan Padró's Culinary Creative group, which opened Mister Oso, an offshoot of its LoHi Latin restaurant Señor Bear, in the space in November 2019.
Racines
It was the end of an era when Racines shut down at the start of the pandemic, but the plans had been in the works pre-COVID. Longtime partners Lee Goodfriend and David Racine had been thinking about closing their last spot and retiring for some time, and had a deal in the works to sell the property at 650 Sherman Street in January 2021, at which point they would close Racines. But the restaurant never reopened after the March 2020 indoor dining shutdown, and the owners announced its permanent closure in July 2020. This past October, the last vestige of Racines disappeared as a wrecking crew knocked down the empty shell of its former home, marking the end of a place that had served so many meals and memories over its 36 years in business.
Rebel Restaurant
Though it was only around for three years before closing in August 2018, Rebel made a lasting mark on the culinary scene in town, thanks to chef and owners Bo Porytko and Dan Lasiy's bold, playful and, yes, rebellious take on food. With dishes like whole pig heads and tripe poutine with foie gras gravy, a visit to Rebel was deliciously challenging every time. The space — a former dive bar on the industrial edge of RiNo, at 3762 Wynkoop Street — sat empty for some time, but is soon set to reopen as RiNo Country Club, a bar with an outdoor mini-golf course from Josh Schmitz's Handsome Boys Hospitality group. And while we miss Rebel, Porytko continues to make some of the most fun food in Denver (and one of the city's best burgers) at Misfit Snackbar inside Middleman on East Colfax Avenue, which made it onto this year's Eat Here list.
Vesta
There wasn't much happening on the 1800 block of Blake Street before Josh Wolkon opened Vesta in 1997. For more than twenty years, the restaurant was the coolest kid around, and a training ground for many of Denver's top chefs. During its run, Wolkon went on to grow his Secret Sauce restaurant group, adding Steuben's and Ace Eat Serve in Uptown, which are still thriving. Unable to make a comeback in the pandemic-dining era, Vesta bid farewell in August 2020 with a final fundraiser in honor of one of its former chefs, Brandon Foster, who tragically passed away last summer. The space will soon reopen as LGBTQ bar Sir.