SALT LAKE CITY — After a few weeks of voting, and many local restaurants showcasing their best takeout options to Utahns, we finally have a winner … well, sort of.
Crown Burgers took an early lead over The Pie Pizzeria Friday before the pizza joint reigned supreme and claimed a 1,187 vote lead at midnight Friday after approximately 60,000 votes were cast — about the standard amount of votes cast in a day's worth of voting. But that's where the bracket challenge took a crazy turn and escalated into something more unreal.
In less than 24 hours — more appropriately 12 hours — Crown Burgers took a monstrous lead (garnering 66% of the vote) after approximately 150,000 more votes were cast in that time frame. The reality is, there's no way that happened. I've been doing this bracket challenge since 2016 and we've never seen more than 150,000 votes cast in such a short time period.
This bracket challenge does well and it gets people interested, but voting tends to taper off throughout the weekend as the story no longer shows up on our home page and prospective voters have to search it out a bit to find the story — that's simply the nature of how KSL.com works and the traditional life cycle of a story.
I've also reviewed the individual responses (as best as possible in the limited timeframe possible) and it's clear Saturday had some extracurricular activity take place to sway the voting in such a drastic manner. I considered declaring The Pie the winner since the pizza joint led at midnight Friday, but that's shortchanging any valid votes made Saturday and Sunday.
As a result, no official winner can be declared this year, much to my disappointment.
So consider this my reconciliation for the two restaurants primarily based in the Salt Lake Valley: The Pie Pizzeria can be declared the best pizza takeout restaurant along the Wasatch Front; and Crown Burgers can be the best burger takeout restaurant along the Wasatch Front.
If you like soccer, or fútbol, you can live with a tie. If you're like the rest of the voters that think a tie is like "kissing your sister" — to adopt the common sports phrase — you're probably a little more disappointed. But hey, there are so many great restaurants named in this bracket, so go find a new place to get some food; or hit up The Pie or Crown Burgers for some Salt Lake City favorites.
You can rarely go wrong with pizza from The Pie — don't overlook the Cheese Pull-A-Parts — or Utah's iconic pastrami burger from Crown Burgers.
If you need some other recommendations, I'd personally start with some of my favorites: Pretty Bird, Lucky 13, My Thai and a whole host of other great local restaurants included (and not) in this bracket. I'm always happy to give or accept recommendations on places to eat on Twitter. Go get some local takeout already and find a new restaurant along the Wasatch Front.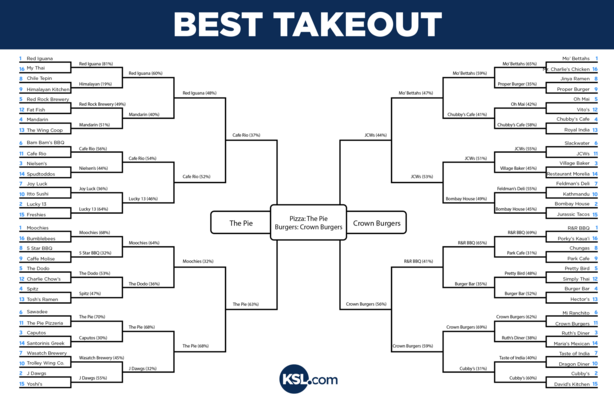 ×
Related Stories
More stories you may be interested in